Window Transmittance | part 1
The purpose of this tutorial is to introduce the basic functions of Frame Simulator, through a step by step development of a simple project regarding a wooden frame. The main result we want to get is to compute window transmittance applying ISO 10077-2.
Here you are the project: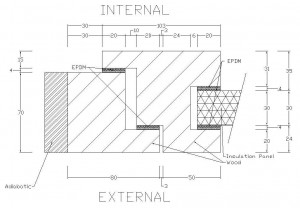 Typical wooden frame of a window.
"ITERNAL" is the frame's part in contact with intern environment;
"EXTERNAL" is the frame's part in contact with extern environment;
"EPDM" has a conducibility of 0.25 W/(mK);
"Wood" has a conducibility of 0.13 W/(mK).
Window Transmittance
Insertion of project in Frame Simulator
In this tutorial we'll use the following abbreviations:
LMB = left mouse button click;
MMB = middle mouse button click;
RMB = right mouse button click.
1 – Lines insertion
Please run the software. The main interface is composed by tabs representing the various phases of project insertion and by a viewport showing frame's 2D section.
First of all you need to insert the lines composing the frame; this can be done using the tools in the "Lines" tab or you can simply import a DXF file. This should be the result:


Lines of wooden frame
ISO 10077-2 standard reports a series of rules:
Glazing must be replaced with an insulation panel at least 190mm long;
The end of the insulation panel must be in contact with an adiabatic surface.
2 – Areas properties insertion
At this point you have to insert the properties of all the areas. Please click on "Areas" tab to enter in areas insertion mode.
Click "Fill area" button and select material type (Standard, Adiabatic, Insulation, Transparent, Glazing gas). In case of standard material, please insert conducibility and emissivity. Usually emissivity is 0.9, except for special materials. LMB in the middle of the areas that you want to create with specific properties.
Areas should look like the following picture:


Areas of wooden frame
This is the end of the first part of this tutorial on
window transmittance
; stay connected to see how it ends.
https://www.fluidinteractive.com/wordpress/wp-content/uploads/2012/07/woodenFrame-300x208.jpg
208
300
alberto
https://www.fluidinteractive.com/wordpress/wp-content/uploads/2016/01/siteLogo4-300x100.png
alberto
2012-07-16 10:45:29
2016-01-14 11:55:13
Window Transmittance | part 1